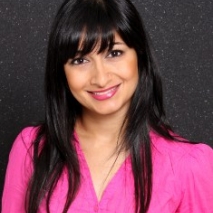 ANJALI PATHAK
---
Anjali Pathak is an exciting talent in the Indian food and spice arena with a fun loving and warm character. She's been surrounded by food all her life as the next generation of a family that brought Indian cuisine to households around the world, Patak's.
Being part of such a well recognised family, Anjali has always been determined to make a name for herself in her own right and is a respected chef and has also been shortlisted for a number of awards including Asian Women of Achievement Awards and First Women Awards for her work with Indian food and flavours. Anjali loves all aspects of food and so has also explored her field further by gaining qualifications in Diet & Nutrition.
The co-author of an award-winning cookbook and a member of the Guild of Food Writers, Anjali is also a popular blogger and an ambassador for the British Asian Trust. She continues to go from strength to strength, regularly appearing on television and appears in leading lifestyle and food magazines around the world.
Anjali's first cookbook will be published in March 2015 with Octopus.
India is a real inspiration to Anjali. She's constantly trying to absorb all there is to know about Indian food and regularly travels to India on fact finding missions to learn even more about her food heritage. It's such a huge country with such diversity, that Anjali tries to visit different parts of India each time she returns so she can soak up the culture and traditions across the different regions and bring those inspirations back to the UK. Anjali wants everyone to experience India and spices through her eyes.
Follow Anjali Pathak on
---