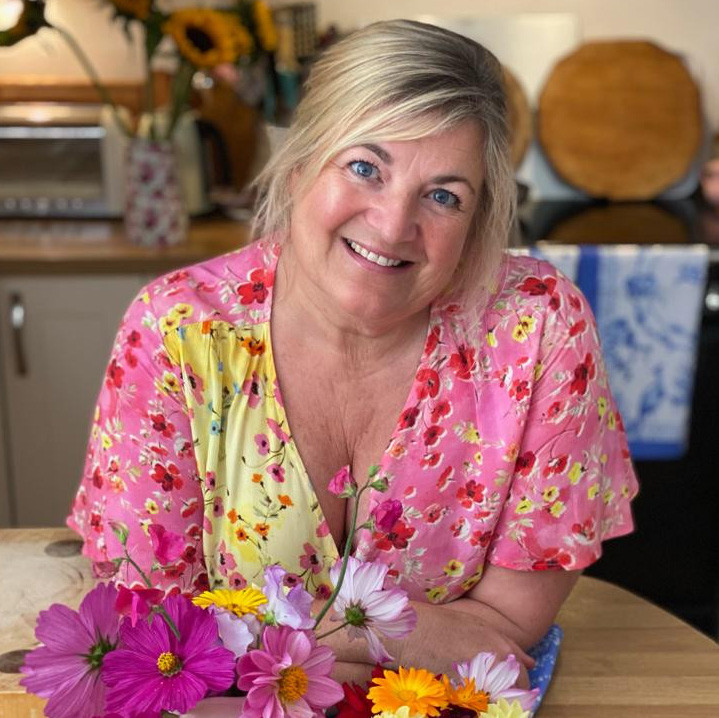 LOTTE DUNCAN
---
Lotte is a skilled and highly experienced broadcaster. Recognised as a leading authority on English cooking, she brings thirty years of food experience to her television presenting, live stage hosting and compering with a light, friendly and humorous touch.
Lotte is Patron, Director and one of two event organisers (with Jon Hackett) who run Thame Food Festival
In 2019 Lotte and her partner Jon also launched their brand new Food Festival in Bradford on Avon in sunny Wiltshire on Saturday June 1st. Bradford on Avon Food and Drink Festival - In 2021 it's back and better than ever after the Covid pandemic meant a year away from shows.
Organising Food Festivals is a huge undertaking and a lot of that time is spent choosing the stall holders – and sampling all new ones. This means that there is always high quality produce at the Festival. Lotte's contacts enables the demonstration stage to be brimming with culinary talent!
Magimix UK are Headline Sponsors for both festivals.
Since 2015 Lotte has judged and co-ordinated for Great Taste Awards – 2021 sees almost 13,000 products judged by 500 judges.
In 2019 Lotte joined Love British Food as one of their Ambassadors.
Aside from Food Festival organising, Lotte hosts different stages for the BBC Good Food Shows and HCP Events – throughout the year – speaking to all the big names in food TV including John Torrode, Gregg Wallace, Paul Hollywood, Mary Berry, Michel Roux Jr, James Martin and Tom Kerridge amongst many others. At the summer show, this also includes many TV gardeners too. In November 2021 Lotte will be hosting the Get Baking Stage at BBC Good Food Show Winter.
Lotte also went to Dubai to host the Interview Stage there at the inaugural BBC Good Food Show.
The Interview Stage has become a popular destination at the shows for both the chefs and the public, where the interviews are always lively, fun and relaxed. For the big chefs, it can often have an audience of 1,000+
She has been a regular face and one of the resident chefs on Food Network UK and has filmed many interstitials for the channel including Made with Love for Valentines with Matt Evers and 'Keep calm and plan ahead Christmas in September weekend'.
Lotte is also the face of Food Network's online Cookery School having filmed many short form films on the website with scores of different recipes from Bread to Cakes to Pies and has previously been one of the main judges for the OFM (Observer Food Monthly) Awards and The World Bread Awards.
Her cookery book – Lotte's Country Kitchen was published by Absolute Press to great acclaim.
Lotte has also taken part in Food Network's Chopped for a special British version which also aired on both Food Network UK and Food Network US.
Other television appearances have included BBC's Countryfile: Summer Diaries and Castle in the Country as well as ITV1's Heart of the Country and Five's Cooking the Books. She was also a regular presenter and chef for five years on UKTV's Great Food Live.
Lotte was one of the stars of ITV1's Dial a Mum series. Concentrating on household management and food, Lotte gently encouraged contributors to live a healthier lifestyle by cooking good food. She also helped people to make their lives more organised and calm by making sure their homes were places they wanted to be in.
Lotte started out on television by presenting three of her own series – Simply Puddings, Feast Days and Holidays and Quick Cooks for Carlton. She then went on to be a chef on Ready Steady Cook and resident chef on Channel 5's Open House with Gloria Hunniford. Guest appearances also include Channel 4's The Richard and Judy Show, Battle of the Chefs, Eastenders Revisited, BBC1's Value for Money, Animal Park, Club Vegetarian, Ideal Home Cooks with Nanette Newman and Kate Humble's Webwise programme, where she told the world a thing or two about Tudor food.
Lotte has been Brand Ambassador for Cuisinart in the UK, guest editor for Prestige Cookware's Eat Drink live magazine and has demonstrated for Marks and Spencer and The National Trust, among many other organisations.
Lotte has run her own cookery school/demonstration business for over twenty years. Most recently she owned and ran her own cafe, Lotte's Kitchen for four years.
Lotte lives with her partner Jon in the West Country, has a daughter, Daisy and her father is renowned cartoonist and playwright Robert Duncan. www.duncancartoons.com
Follow Lotte Duncan on
---