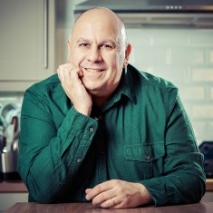 LUIS TROYANO
---
One of the finalists of 2014's Great British Bake Off, Luis has been taken to the hearts of the great British public with his extremely inventive bakes.
Since the Great British Bake Off, Luis has written a baking book - Bake it Great - which will be published in August 2015. He has also been teaching people how to bake at cookery schools as well as demoing at many shows throughout the country.
Luis' talents have also seen him work with various brands throughout the year including Kenwood, Co-operative, Franke and Bosch.
He was born and raised in Stockport but both his parents are Spanish which had a huge influence on how he cooks today. Not only is Luis a great baker but also a great cook in general.
Smiley and affable but extremely focused, anything Luis sets his mind to he accomplishes. Completely self-taught, Luis' baking addiction began about five years ago with some simple recipes that didn't come out great. With time and practice his baking got better and better. He reads and researches as much as he can and learns from others' experiences. The challenge of trying a new recipe or inventing something himself is what he relishes most.
Luis' unique bakes include such delights as a Tequila Slammer Cheesecake or cherry brandy pipette gateaux. Luis has a real passion for bread and pastry too. He uses honey from his bees (keeping bees is one of his passions) and fresh ingredients from his allotment in his baking. He also preserves his own jam and his Bakewell Tarts are his favourite to make... and eat.
What sets Luis apart from other bakers is that he always tries to have a theme or element of design in his bakes. He really likes big, bold and colourful. Trying to make his bakes stand out from the crowd is a must, as well as tasting great too.
Luis lives in Poynton, Cheshire, with his wife. His heritage makes him fluent in Spanish. He trained as a Graphic Designer and now co-owns his own advertising agency in Cheadle, Manchester.
Follow Luis Troyano on
---