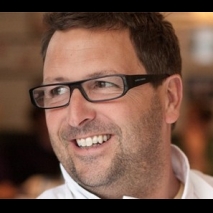 MITCH TONKS
---
Mitch Tonks voted Tatler's restaurateur of the year, labelled by The Independent as "a fishmonger for the 21st Century"and by the Sunday Times as the new Rick Stein, has been driven by an honest passion to enthuse, cook for and inspire others to enjoy seafood. His list of awards and recognitions is testament to Mitch's hard work and inspiration; "Best Fishmonger", 'Best London seafood restaurant', 'Best fish book in the World Gourmand Awards', nominated as Ernst & Young's Entrepreneur of the Year, listed as one of the top 100 most influential foodies by Hotel and Caterer are just a selection.
He is energetic, entertaining and hugely knowledgeable and his advice focuses on sourcing the freshest fish, key preparation techniques which remove much of the mystery surrounding seafood, and simple no-fuss cooking. The recipes are enticing and achievable and demonstrate the diversity and versatility of fish and shellfish. Although hugely enthusiastic his method is one of practical, no frills techniques that actually work
Television has included appearances on Saturday Kitchen, Market Kitchen, Masterchef and Great Food Live as well as Mitch's initial series Fish Food for CFN however, it was in his series Mitch and Matt's Big Fish (UKTV, DAVE, Watch, Virgin Media) accompanied by Matt Dawson that has really taken the TV world by storm gaining fantastic viewing figures and which has been sold into more channels than any other programme of its kind. The show follows Mitch and Matt as they travel the UK in Mitch's camper van and explode a few myths surrounding fish in the UK and cook up some great recipes in a bid to spread the love of fish! Mitch was also involved in the Bafta nominated series for BBC online Get Cooking and will be filming for a follow up series How to Cook in 2012.
Mitch's latest book Fish Easy will be published in 2012 by Anova and concentrates on 30 minutes seafood recipes. His previous book, FISH has been described as "undoubtedly one of the most important books of the year" (Woman & Home) and is a book covering everything you need to know about buying, cooking and eating the best in seafood, about how fish is caught, sustainability, how the fish markets work and of course how to eat and prepare this fantastic food. Mitch's 1st book The FishWorks Seafood Café Cookbook was Winner of the World Gourmand Best Fish and Seafood Book in the UK award. He has also written The Fishmonger's Cookbook and The Aga Seafood Cook Book.
Mitch also writes and contributes to national and regional newspapers and magazines.
Events and consultancy span all things fish and include Mitch's current project as Ambassador for Norwegian Seafood in 2012 as well as an ongoing consultancy for Young's Seafood which aims at delivering the best in seafood to the public and is a consultancy which includes judging each year at the UK Seafood Championships. Mitch also works closely with Visit South Devon and provides consultancy to a number of restaurants and hotels including South Sands hotel in Salcombe where he is consultant chef.
Mitch also demonstrates at various cookery schools and regional festivals throughout the year including Exeter Food Festival, TASTE of Bath, Abergavenny Food Festival, Bristol Soil Association, Organic Food Festival, Isle of Man Queenie festival, Dorset Seafood Festival, Christchurch Food Festival, Pembrokeshire Fish Week, Bristol Food & Drink festival; Lyme food festival; Divertimenti and Sarah Raven's Cookery Schools.
Mitch - The Restaurateur
Aside from all the media work Mitch is a prolific and award winning restaurateur and has the following restaurants
RockFish Take Away focusing on local fish and crab
RockFish Seafood & Chips, hugely successful family seafood restaurant and was voted in the top 30 fish and chip restaurants by The Times.
The RockFish Grill & Seafood Market in Bristol is all about seriously fresh fish, sold in the seafood market and served grilled on wood fires in the restaurant.
The Seahorse in Dartmouth specialises in local fish and meats cooked over charcoal. The restaurant also has its own launch, the Pearlfisher, which can collect and return customers across the river. Called 'The Ivy by the sea' by the Independent and in 2009 and 2010 was voted in National Restaurant Awards Top 100 UK restaurants.
Before moving on to new projects in 2008 Mitch set up The FishWorks chain of restaurants and fishmongers. Mitch was director and CEO for 13 years and designed the shops with the atmosphere of a working fish market trading in species from all over the world. Sites incorporated seafood cookery schools which were voted number 5 in the Independent's top 10 UK cookery courses. In 2000 the Which Good Food Guide voted one of the chain "Best Seafood Restaurant" and in 2005 two further restaurants the "Best Fish Restaurant" award in the exclusive Tio Pepé Carlton ITV London Restaurant Awards.
Follow Mitch Tonks on
---