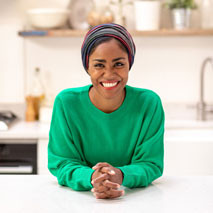 NADIYA HUSSAIN
---
Nadiya Hussain rose to fame after winning the sixth series of The Great British Bake Off.
She was one of the most memorable contestants ever due to her captivating smile and inspirational winner's speech. Since winning, Nadiya has presented her own cookery shows including Nadiya's Time To Eat, Nadiya's British Food Adventure and Nadiya's Family Favourites plus travelogues, The Chronicles of Nadiya for which she was nominated for an RTS for Breakthrough Presenter and Nadiya's Asian Odyssey. She has also co-presented The Big Family Cooking Showdown and Junior Bake Off and is a regular guest on The One Show. Aside from cookery and travelogues, Nadiya has also presented, Nadiya: Anxiety & Me, an in-depth look at how she and others live with anxiety and panic disorder.
Her cookery books and cookery/story books for children have reached bestseller status and include Time to Eat, Nadiya's Family Favourites, Nadiya's British Food Adventure, Nadiya's Kitchen and the Nadiya's Bake Me a Story trilogy. Nadiya has also written two novels – The Secret Lives of the Amir Sisters and The Fall and Rise of the Amir Sisters. The third, The Hopes & Triumphs of the Amir Sisters will be published in January 2020. Her first picture book, My Monster and Me, was published in October 2019, as was Finding My Voice, an emotive look at the different roles Nadiya plays in her life and how they have shaped her.
Following the release of Finding My Voice, Nadiya has also toured the country to discuss the book and her roles in more depth reaching audiences from Brighton to Edinburgh.
Nadiya makes regular appearances at cookery events throughout the UK and abroad, including the BBC Good Food Show and many more, and has featured in the BBC's 100 Most Influential Women list. She also features regularly in the media with columns in The Times and previously BBC Good Food Magazine and Essentials.
Watch this space for more TV and publishing activity for 2020 and beyond!
Nadiya lives with her husband Abdal and their three children in Milton Keynes.
Follow Nadiya Hussain on
---