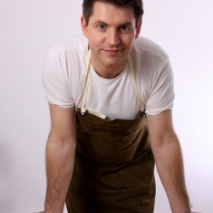 RICH HARRIS
---
A passionate chef and home economist, Rich has developed his cooking style working behind the scenes on the UK's leading food television programs. It's now time for this talented chef to step into the limelight.... and Rich certainly did that with his first book - Fire & Smoke and his latest, Root & Leaf published in 2018.
His varied and exciting career has seen him working alongside some of the world's most renowned chefs and it has been this exposure which has driven him to continually search for new ideas in the kitchen.
He has a relaxed and engaging presenting style, both on camera and when cooking live on stage at national food shows and events. He is a regular presenter for Waitrose TV and writes for their magazine, Harvest.
Rich studied French at university and spent a year living and studying in France- both on the French Indian Ocean island of La Réunion and in Pau, in the Pyrenees - giving him the opportunity to explore traditional regional French and Créole cuisine. He has travelled to over 30 countries including China, India and Malaysia and has a true passion for authentic local cooking, with a particular love of traditional street food. However despite his love for new and exotic flavours, Rich's culinary roots lay firmly in home-cooked food to be shared by family and friends.
Outside of television Rich regularly works as a food writer and stylist for cookery books and often works as a private chef to a select group of clients, both in London and abroad.
Richard grew up in rural Oxfordshire and now lives in Brighton, East Sussex
---