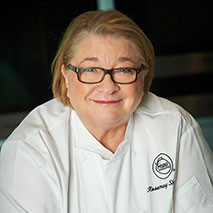 ROSEMARY SHRAGER
---
Rosemary endeared herself to the nation when she took part in 'I'm a Celebrity, Get Me Out Of Here' where she proved she could cook just about anything, anywhere. Her latest programmes include The Big Family Cooking Showdown and the very successful The Real Marigold Hotel which aired on BBC to great acclaim and was nominated for, and won, a string of awards. Subsequently Rosemary has filmed several further series of The Real Marigold on Tour .visiting countries all around the world. Rosemary's The Chopping Block, filmed at her cookery school in Tunbridge Wells aired for two series on on ITV and Rosemary also appeared on Culinary Genius for ITV.
Rosemary latest programmes have been incredibly fun - Netflix's Best Leftovers Ever judging some crazy leftover combinations in USA. Fishing Scotland's Lochs and Rivers for C5 and most recently, Cooking with the Stars for ITV where Rosemary starred as mentor for Jonny Vegas in Series 1 whilst Series 2 sees Rosemary teaching the lovely Anton Du Beke.
With a over a decade in broadcasting and teaching, Rosemary Shrager's role in ITV1's Ladette to Lady cemented her position as Britain's best loved Chef and Cookery Teacher. Rosemary Shrager's School for Cooks aired for two seasons on ITV1. Further afield Rosemary has filmed Ladette to Lady US and Australia.
Previous work includes Taste the Nation, Sue and Giles live The Good Life, Supersizers with Giles Coren and Sue Perkins (BBC 2) resident judge on Soapstar Superchef and Kitchen Showdown with Rosemary Shrager which won rave reviews on UKTV Food. She was also one of the judges on the acclaimed Local Food Heroes, alongside Gary Rhodes.
Rosemary is a talented and versatile chef who loves talking about food as much as she loves cooking. 2005 saw her broadcast career span the Atlantic with her first series for US Broadcaster Discovery Home - Rosemary - Queen of the Kitchen. This was coupled with her series for Channel 4 - Mind Your Manners and, of course, ITV1's prime time show Ladette to Lady.
Rosemary's six part series, Rosemary - Castle Cook for Five led to a second series, Rosemary on the Road. Rosemary has worked on a number of television projects including an eight part contribution to the Carlton TV series Nosh.
Her first cookery book, Rosemary - Castle Cook was described by food writer Michael Raffael as "an object lesson in handling the finest produce". Her second book Rosemary Shrager's School for Cooks was published to accompany the series and her latest with another Rosemary Shrager's Absolutely Foolproof Classic Home Cooking as well as Food for Family and Friends following soon after. Rosemary Shrager's Yorkshire Breakfasts was published in October 2011. Rosemary's latest book Rosemary Shrager's Cookery Course is available now.
Rosemary regularly works with brands on PR and consultancy projects including Specsavers, ABP and NPower adding her natural extrovert and communicator skills to all relevant projects as well as demonstrating at food and drink festivals around the country including Ideal Home Show, Eat & Drink and Cake & Bake Show.
During the pandemic, Rosemary began her own online demonstrations which appear on her Facebook page and her Youtube channel to great acclaim. She has now begun her own virtual cookery school. All details appear on her website - www.rosemaryshrager.com
Rosemary's professional career includes a period working for Pierre Koffman at the internationally famous Tante Claire restaurant in London and also a period working for Jean-Christophe Novelli. Thereafter, Rosemary was the head chef at Moyns Park, the home of the Mountbatten's who held private and corporate functions and where Rosemary was responsible for all aspects of catering. Both her preparation and her presentation are outstanding. This led to Rosemary having her own cookery school at Amhuinnsuidhe Castle from 1998 till 2002 before moving it to Swinton Park, a castle hotel in the Yorkshire Dales where she was based for 10 years before opening her Rosemary Shrager's Cookery School from 2013- 2019.
When she is not teaching, Rosemary spends her time developing new recipes, working on further television projects and providing her expertise to private clients. Her passions and loves include food in general and imparting her knowledge and skills to others as well as sourcing new food products especially those that are organic.
Follow Rosemary Shrager on
---