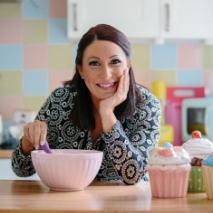 SUZY PELTA
---
Suzy is an entertaining and exuberant baker, who's Chocolate and Banana Cake with Peanut Butter Frosting won the title of 'Britain's Best Cake', and her the title of 'Cake Club Queen' in ITV's Lorraine Cake Club Competition.
Suzy's first book: Miracle Mug Cakes and Other Cheat's Bakes was published by Ryland Peters and Small and has received rave reviews and features, including Hello Magazine, BBC Easy Cook Magazine and ITV's Lorraine Show, where Suzy baked recipes from the book live on air.
Suzy has collaborated with Infinity Brands launching 'Bake With Suzy' gourmet baking kits, where all of the key ingredients to make one of Suzy's recipes are pre-measured out, individually wrapped and packaged in retro style tins. There are currently 6 kits in the range and they are sold all over the world. The kits have featured in Red Magazine, Olive Magazine, and The Metro and Suzy has also promoted them personally on QVC.
Suzy puts a fun and somewhat indulgent spin on baking and runs a very popular blog - www.suzypeltabakes.com which includes recipes, competitions and reviews and she often collaborates with top brands including Renshaw Baking.
For the past five years Suzy has been Marie Curie's Official Blooming Great Tea Party Blogger https://www.mariecurie.org.uk/teaparty/recipes which has seen her create many recipes for them, including the campaign's signature cakes. She has also partnered with the campaign's sponsors: Nature Valley and Cafe Direct, creating recipes using their products. Suzy appeared in a series of video blogs and also a baking tutorial with Mel Giedroyc and these were the focus of Marie Curie's Tea Party social media week.
Suzy has featured in the advertising campaigns for Blooming Great Tea Party and for Comic Relief Red Nose Day Campaigns, Suzy has also partnered with Maltesers to create Maltesers Cookies, which were one of the official recipes of the campaign.
Suzy features in recipe videos for Waitrose TV's 'Love to Bake' series and is regular demonstrator and presenter at many top food festivals. These include BBC Good Food Shows, The Cake & Bake Show, Foodies Festival & Thame Food Festival.
Suzy lives in London with her chief tasters - her husband and three children.
Follow Suzy Pelta on
---